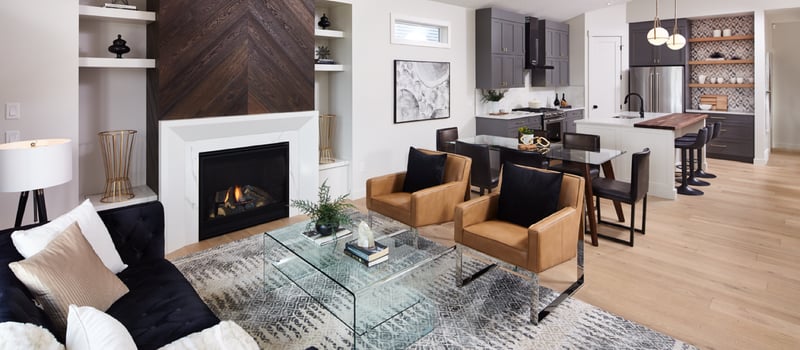 Prominent Homes' Berkshire W model offers a lot of flexibility for the right buyer. It's a 1,150 square foot one-bedroom, bungalow-style home, so it's a great fit for retirees who are looking for single-storey living. At the same time, there are options to expand it to be a much larger home if that's where your needs lie.
Learn more about this great home below, then come out for a tour!
The Benefits of Bungalows
In a bungalow home, everything you need for living is on the main floor. That makes it a smart choice for anyone who has mobility issues or who worries that this could become a concern in the future.
The Berkshire W has an attached garage with an entryway that leads you into the mudroom. There's a washer and dryer in this area, so you won't have to worry about lugging heavy laundry baskets up and down the stairs. Pet owners really like the option of having a washing station for their dog's muddy feet.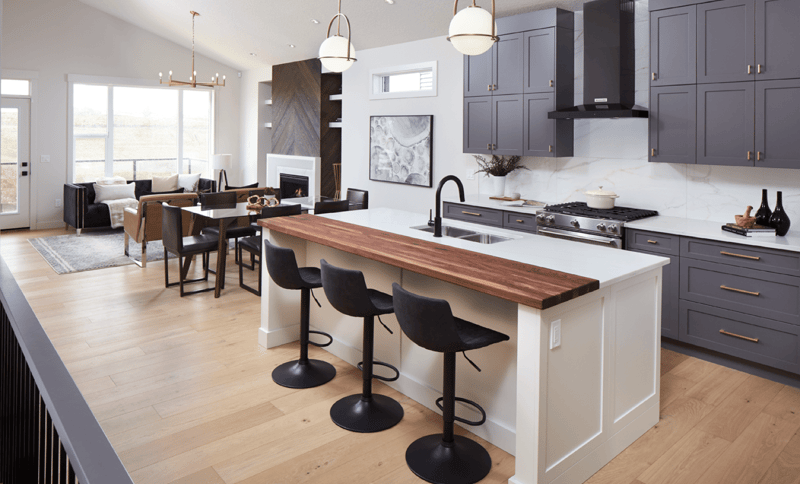 Inside the main area of the home, you'll find an open-concept living space, with the kitchen, dining nook, and living room all on one side of the home. You'll find a modern look to the kitchen, with a tile backsplash and pendant lights hanging over the island. You'll be able to make your own selections when it comes to these features, so you can choose designs that match your unique preferences. The Berkshire offers plenty of functionality too, with a corner pantry for storing food and deep drawers under the counter instead of cabinets.
The large windows and door out to the back patio really help to brighten up the entire home, and you can just imagine the cozy feeling you'll get when sitting by the fireplace in the winter. You'll be proud to invite family and friends over.
Your Beautiful Master Suite
The Berkshire W is a one-bedroom home (we'll get to options for more bedrooms in a minute…) but that one bedroom is incredibly luxurious. The bedroom area features a door that goes out onto the patio, so you can easily step outside to enjoy some sunshine.
There's an oversized walk-in closet that you must walk through to get to the ensuite. One one side of the closet, you'll find space to hang clothes, while the other can have shelving for storing other clothing items.
In the ensuite, you'll enjoy having a separate shower and soaking tub. There's even side-by-side sinks so you won't have to fight over space at the mirror when you're getting ready to go out. Most importantly, though, you'll see just how beautiful your new home could be. The ensuite is pretty enough to be featured in a 5-star hotel, with features like tile flooring and a backsplash by the soaking tub.
The Additional Space You Really Want
At first glance, a one-bedroom home with 1,150 square feet might now seem like enough. But the truth is that you do have the option of finishing the basement area, which adds another 787 square feet of living space. In practical terms, this means you'll be able to get a 1,900+ square foot home at a far better price than you'd be able to get on a home model that starts at 1,900 square feet.
Finishing the basement would give you two extra bedrooms, a second full bathroom, a rec room area, and even a wet bar. There's also an unfinished area that's perfect for storing any belongings that you want to keep out of sight.
This arrangement means that the home is the perfect choice for those with older children. You'll feel good about having your bedroom on the main floor and the kids can get their own bedrooms and even have a cool hang-out space for their friends, while you can have some peace and quiet upstairs.
Sound like this might be the right home for you? You can easily take a tour of this model in the Walden community found in Southeast Calgary. There's a peaceful feeling to the neighbourhood, with plenty of walking trails throughout to keep you in the mood for physical activity. And while we think the home is absolutely perfect just the way it is, remember that you always have the option to customize the design. Contact our sales team and create the perfect home for your family.